Say you've found some caches rated 4 difficulty and 4 terrain. That's an interesting combination, you might wonder which ones they are. With this release, you can now view the caches behind the stats. To see those 4/4 caches, click the cell in the D/T grid and it will take you to the cache list showing them. You can do this for almost all stat categories. Check out the screen shots for more examples.
Here's the difficulty/terrain grid. Notice numbers are now underlined indicating they are clickable. When you click on a number, it will take you to the appropriate spot in your cache list on the caches tab.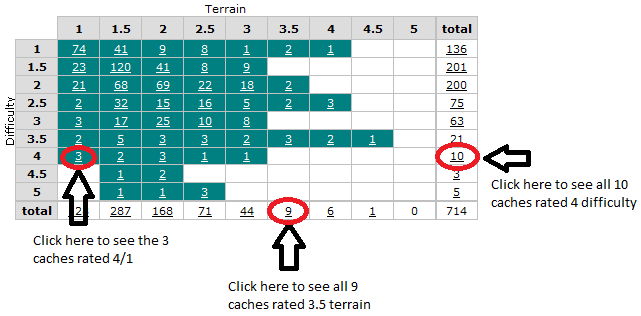 The calendar grid is similar - click on a specific day to show all caches found on that day. Or click on a month total to see all caches for that month.
Besides the D/T and Calendar grids, many of the lists (such as milestones and geocache size and type) are now navigable too. For example here's a screenshot of the Cache Type list:

Finally, many of the dates that are shown on the statistics page will take you to the caches for that date:

If you enjoy reviewing your past accomplishments and recalling what happened when, I think you'll like this new feature. One other feature in this release, you can now sort your location list (i.e. states and countries) by order found, number found, or alphabetically. As usual, to upgrade, just download from the CacheStats website and start the installation. Your previous version will automatically be uninstalled.