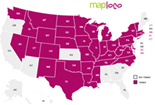 Sadly, the maps at world66.com have been down for several months and the site doesn't show any signs that it will be coming back. This spurred me to put out a new release which uses a new map provider, maploco.com. But that's not all. Read on to learn about other new and exciting features added in this release.
There are a few semi-major changes which prompted me to bump the version number from 3.0.11 to 4.0:
I updated behind-the-scenes technologies to modern standards. This means Windows XP is no longer supported.).
Handling of the data file that holds info like your FTFs has changed. More on this below.
This version uses a new installer. If you're upgrading it won't uninstall the previous version, but you can manually uninstall it via the Windows Control Panel.
With that out of the way, here are the new features.
Filtering the Calendar and D/T Grid
There are new filters for the Calendar and D/T grids. For the calendar, you can now filter by cache type in addition to the year:

This presents new challenge opportunities, for example try to fill your calendar with finds of a particular cache type. Even if you're not interested in new challenges, it's still interesting to apply the filter, for example to see the events you attended for any given year.
The Difficulty / Terrain grid now has two filters, by year, and by cache type. Again, new challenge opportunities come to mind, and you may learn some interesting tidbits. In my case, I noticed I haven't found any difficulty 1 mystery caches, and only one difficulty 5 traditional cache.
Finally, for both the calendar and the D/T grid, there's a new option to show your year-to-date progress in your geocaching.com profile.
New Data File Handling
As mentioned above, handling of the data file that holds your FTFs, favorites, and profile settings has improved. Previously this file was stored in a hidden folder. Now you choose where to save it. You can even save it in a shared folder such as DropBox or OneDrive so your FTFs etc. are available on multiple computers. Even better, the file is no longer tied to the pocket query name. Previously, if you opened a pocket query that didn't exactly match the name of the previous one, CacheStats would start fresh, losing all your FTFs in the process.
If you're upgrading, you'll be asked to create a new data file. All your previous data will be transferred over to the new one.
Other changes
The main page was cramped. Reworked the layout to make more room in each tab.
With the extra room, I was able to add farthest distance between consecutive caches on the same day
Added new blog options for the news page and removed some that were inactive
Fixed the news feed for geocaching.com
Spruced up the profile preview
Fixed: sometimes clicking a hyperlink used Internet Explorer instead of the default browser
Giga event caches are recognized
Download the latest from the CacheStats page. Remember, it won't automatically uninstall your previous version - you'll need to do that via Windows Control Panel.
As always, let me know if you have ideas for new stats (especially now that the the general stats area has more room!) Happy caching.